Are you having problems with your brakes in Hallandale? If so, you can't afford to wait. Brakes are an essential safety feature for any vehicle to have, and you'll be putting you and the cars around you in danger if you don't get your brakes inspected by a trusted auto shop. At Tropical Performance, we're proud to be Hallandale's brake servicer of choice. To learn a little bit about what causes brakes to break and how often you should get yours replaced, read below.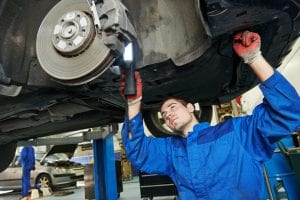 Why Do Brakes Need to Be Replaced?
If you think about it, brakes perform a hard job: they're constantly stopping your vehicle, which may be moving up to 80 miles an hour. Stopping all of that weight, over and over, is bound to have an impact over time.
There are a few different problems we see that tend to require brake replacement. To list just a few of the most common one:
Age causes your brakes to wear down over time.

Debris gets stuck in a caliper, causing it to get stuck.

A lack of brake fluid wears your brakes away.
When Should You Get Your Brakes Replaced?
If you're wondering about your vehicle's maintenance needs, always remember to check your owner's manual, which will have information specific to your car. Failing that, a trusted auto mechanic will be able to inspect your vehicle and give you some good information regarding when the brakes need to be repaired.
A trusted mechanic's opinion is especially valuable, since they'll be able to see firsthand how your vehicle reacts to the vagaries of time.
Need to Get Your Brakes Serviced in Hallandale?
Trust Hallandale's auto mechanics of choice. At Tropical Performance, we've been helping Hallandale residents keep their cars well-maintained for years. Whatever problem you're dealing with, we've surely seen it before. To let us know about your vehicle's problem and get a free car maintenance quote, call us now at (954) 866-7490.