Are you in need of a Sunrise auto repair?
If you are a Sunrise resident, have an auto repair you need to be completed do not call the second best or third best mechanic, contact Tropical Performance today. Tropical Performance of Sunrise offers the very best there is when it comes to mechanics and car repair.
When you bring your car to our shop, we'll be able to diagnose the problem and get you back on the road as quickly as possible. We've been around for over 14 years because we understand how important quality repairs and customer service are. After all, if you're like most people, your car is important: without one, it's more difficult to go to work, run errands, and more.
Below, you'll learn more about the suite of car repair services that we offer in Sunrise, Florida.
Our Services
Oil Change – All cars need to have their oil changed now and then; this will help improve the vehicle's longevity and avoid unnecessary trips to the mechanic. We offer a quick and professional level oil change.
Vehicle inspection – We offer a full investigation of your vehicle, from the engine all the way to the bumper and back. We will discovery any problems plaguing your car within an hour.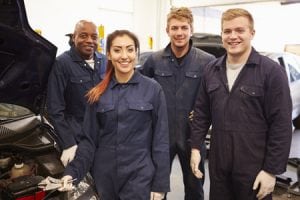 Auto Repair – We offer everything from electrical work to brakes to overall tire work. Let our fabulous team of professionals take a crack at what is wrong with your car.
Brakes and Tires – Our bread and butter are tires and brakes! We are the best in South Florida. We can patch and fix any tire as well as install a set of brakes faster than anyone else in Margate.
Sunrise Auto Repair
Tropical Performance is a full-service automotive repair and maintenance shop located in Sunrise, FL. We have been serving customers in Broward County area for over 14 years, and our ASE certified technicians have over 26 years of experience. If you have any questions about our services, feel free to call us today.