Utilizing Computer and Engine Diagnostics to Make Substantial Repairs
Searching for a reputable Southwest Ranches mechanic for your vehicle shouldn't be a difficult task. Tropical Performance has expanded over the course of 14 years that we have been opened to be accessible wherever you are in South Florida. Whether you're stranded in a city far from home because your brakes gave up on you or your A/C has been broken down for long enough, we will always have your back. We wanted to scatter our locations so that all our customers could use our resources and be guaranteed fantastic customer service regardless of their position.
Southwest Ranches Engine Diagnostics
If your dashboard is lit up like a Christmas tree, that means it's probably time to call your trusted repair service. Luckily for you, Tropical Performance is the premier destination to handle anything that pops up. The occasional low fuel light and wiper fluid aren't emergent; however, when the check engine light turns up, you start going through a mental list of all the possible things that could be tampering with it.
One of our certified Southwest Ranches technicians will convey information from your vehicle's computer into our diagnostic tool. From that point, we will have the required information to help diagnose the exact cause of the check engine light to lighten.
Computer Diagnostics
We use computer diagnostics to ensure that everything is working as it should be throughout the entire car, top to bottom. We use computer diagnostics on several services that we provide in Southwest Ranches to locate the problem and tackle it directly.
Some of the services include replacements on wheel cylinders, brake lines, and calipers. That's not all; computer diagnostics can be used in various areas of the vehicle.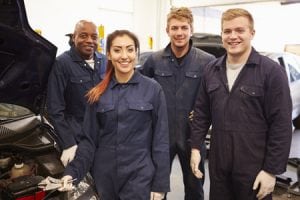 Areas to Utilize Computer Diagnostics
• Ignition Timing and Transmission Issues
• Engine Faults and Build-Ups
• Fuel Injector Performance
• Air and Coolant Temperature
• Throttle Opening
Southwest Ranches Oil Changes
Oil changes are one of the most critical parts of auto maintenance because they make sure that your car runs smoother, stays cooler, and minimizes wear between parts. Oil changes also help maintain your car's fuel economy.
Learn More
Tropical Performance
Don't be alarmed that your car may need diagnostics run on all of these things. The tests are precise and make it easier to find the root of the problem. Allowing us to use this test lets us order the necessary parts, is much more cost-efficient, and keeps you from wondering what is going on with your engine. Peace of mind is priceless!